F.A.C. slicers and catering equipment

ITALIANO
-
info@slicers.it
Tel. (+39) 0331 212252 - Fax: (+39) 0331 216443
www.vertical-slicers.com
-
www.slicers.it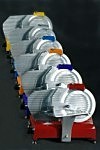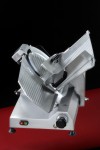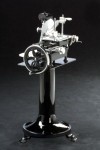 F.A.C. uses superior materials (anodized aluminium alloy and stainless steel) to make rugged and reliable machines to TÜV Standards or to EU Machinery Directive specifications.
for home or professional use for slicing meat, ham, sausages, cold cuts, fish, vegetables, and cheese:
Electric slicers with blade diameters ranging from 195 to 370 mm.
Also available with lacquered finish in many RAL colours
Hand-operated VOLANO slicers (250, 300, 350 and 370 mm dia.), with lacquered finish and matching stand.
C1 Cutter, a multipurpose mincing and kneading machine for meat, cheese, vegetables, pizza dough, and pastry.
Can also whip eggs, cream, mayonnaise, and others.
G1 Grater for Parmesan and other types of hard cheese, bread, nuts, chocolate, and other products.
HR Hamburger machine for tasty patties.
About F.A.C.
In 1961, Corrado Lanza started his company in a 2-room workshop which has grown to a 4,000-sqm modern factory run by his family's new generation, and where a large staff assembles the machines he designed.
F.A.C. exports more than 50% of its products.
See the
Fac Home Page
for more details.